Langworthy Farm Bed & Breakfast
Self Catering Accommodation
Dartmoor Ponies
Widecombe in the Moor, Nr Newton Abbot, Devon. TQ13 7UB
01364 621242 enquiries@langworthyfarm.co.uk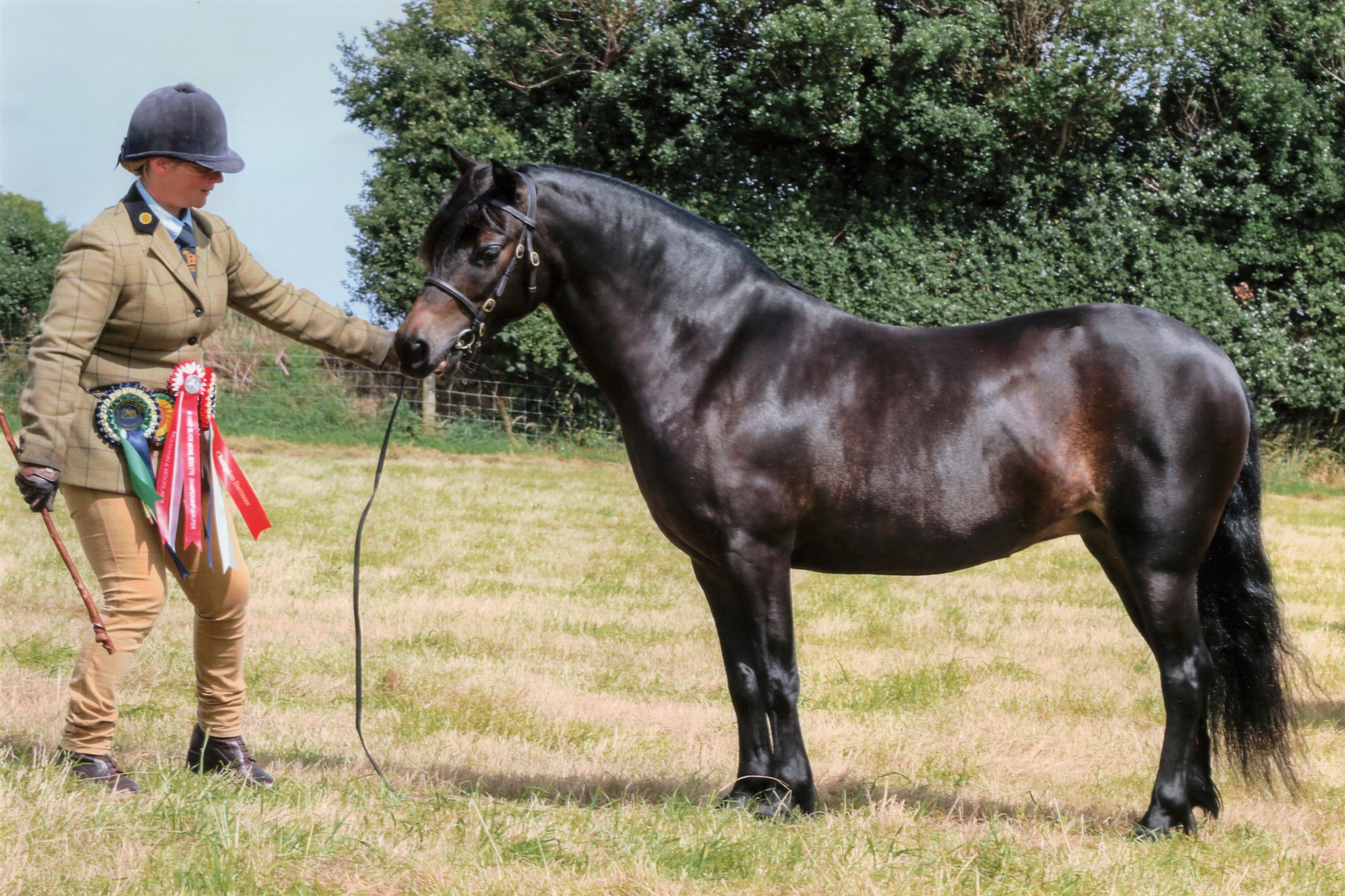 Langworthy Dartmoor Ponies
Pictured above and below: Langworthy  Swift Ghost.
We started our herd with three mares who came from the moors with no identification marks on them. They were all Dartmoor type and were graded SR1, which means 'Supplementary Register 1' in the Dartmoor Pony Society's stud book. From these original mares, Lily, Bess II and Mrs Brimble, we bred our first fillies to a pedigree Dartmoor stallion, which were designated SR2. These fillies were intended to be our foundation mares as their progeny, if bred to a pedigree stallion, are full pedigree ponies. Click on photos for bigger images.
Our Mares

Langworthy Nuthatch. SR2 by Watt's Zoar Tor, bay. Nutty had a good showing career as a yearling, including winning a first at Chard Show and becoming SR Reserve Champion at the Dartmoor Pony Society's Breed Show. She has produced six very nice foals so far: L Kookaburra by The Replica, L Kingfisher (see below), L Teal, L Redstart by Shilstone Rocks Warlord, L Lyrebird by Shilstone Rocks Tornado and L Nightingale by Lickfolds Sebastian.

Below at Widecombe Fair, from the left:

L Swift Ghost, L Curlew, L Linnet and L Snowfinch as a yearling.

Nuthatch as a yearling, 2007

Nuthatch in winter woollies

 

 

 

 

Left: Daf talking to some youngsters at home, 2010

and far left, the team at Widecombe Fair, 2014. (From left to right: L Swift Ghost - property of Lizzie Houghton - L Curlew, L Linnet and L Snowfinch as a  yearling.

Langworthy Curlew. SR2 by Watt's Zoar Tor, dark bay. Curlew is a fine big mare who had a very successful showing career in hand as a three year old and under saddle since she became a four year old. She won the SR Championship at the Breed Show two years running as well as numerous wins and creditable placings. On her first attempt at Working Hunter Pony at the Championship Breed Show, she became the Mini Champion. She has hunted several times with the South Devon, on one occasion leading the field down a rocky slope, demonstrating the virtues of being a Dartmoor pony on Dartmoor!

Curlew as a foal, 2006

Langworthy Curlew, William Houghton on board, Dunster Show.

Langworthy Goldfinch. SR2 by Pantmanr Just So, black. Finch is a beautifully made mare and has so for presented us with five foals, L Snowfinch, now with Seves Dartmoors, L Bullfinch, L Hawfinch, L Scarlet Rosefinch, who took first at Devon County and second at the Bath & West and a colt foal by Lickfolds Sebastian, L Arctic Tern (2017).

Langworthy Goldfinch as a yearling says hello to a visitor from France, 2010



Langworthy Linnet. SR2 filly by Shilstone Rocks Precipitation. Born 2010. Linnet had a good season showing as a yearling in 2011, including first at Totnes show and bringing home two cups from Widecombe Fair. In 2013 she was the first Langworthy pony to become South West Regional Champion. Since then she has gone from strength to strength in the showing ring as well as turning her hoof to hunting and hacking across the moors.

Linnet as a yearling, 2011

Langworthy Brambling. SR2 filly by Shilstone Rocks Precipitation. Born 2010. She was placed in numerous classes and was SR Champion at the Breed Show for 2011.


SOLD Please see 'Ponies in New Homes' page.

 

 

SOLD
Brambling as a yearling checking out the judge's hat, 2011

 

Langworthy Kingfisher. bay pedigree colt by Shilstone Rocks Warlord. Born 2011. Kingfisher is out of Nuthatch and featured last summer at the Dartmoor Pony Heritage Trust's Open Day. Dennis (as we call him) is a little pony with an enormous personality. He caught everyone's attention at the Open Day and was photographed for the Western Morning News with Nick Baker. He then went on to the Dartmoor Society Breed Show, where he won first, Chagford Show where he came first and Widecombe Fair, where he came first. In his down time last summer he became very best friends with our point-to-pointer, giving us endless hours of entertainment watching them play together.

Kingfisher coming to say hello, 2011

Kingfisher with Nick Baker at Dartmoor Pony Heritage Trust's Open Day, 2011. Photo courtesy of Western Morning News





'Kingfisher at the end of the showing season 2012'

 

 L Swift Ghost and L Linnet fighting it out for the Senruf Cup at the Championship Show 2015.

 
 

 

Spring 2017: Ken with our pregnant ladies

Photo by Jon Fryer

 

 

Langworthy Hawfinch as a foal, leading her mum, Goldfinch, astray. 2015

Langworthy Cuckoo. Colt foal by Dartmoor hill pony, coloured. Born 2011. We were surprised when one of our mares presented us with a lovely foal, black with a few white markings on him… We had thought her well in foal to a pedigree stallion when she was turned out on the moor in 2010, but we were obviously wrong!

Now SOLD to a racehorse trainer as a travelling companion to thoroughbreds. Please see 'Ponies in New Homes' page

Cuckoo as a foal, 2011

Kingfisher at the Dartmoor Pony Society Breed show, where he came first in his class, 2011

Widecombe Fair parade of champions 2011, Linnet in the centre

Langworthy Teal. Born 2012 to L Nuthatch, by Okeleat Navigator. Shown in hand as a yearling in 2013, she performed well, coming 2nd at Bath & West and winning the yearling filly class at the Dartmoor Pony Society Breed Show and going on to be Reserve Yearling Champion.

Teal in her winter woollies, on top of a hill on Dartmoor.

Langworthy Firecrest (on the left) is by Shilstone Rocks Warlord, now lives next door and is teaching two small children to ride. (See 'Ponies in New Homes' page.
Langworthy Kookaburra
We were so excited when Nuthatch had her first foal all those years ago -because this was our first pedigree - we decided to give him an exotic name, hence Kookaburra. Recently we were sent some photos of Cookie (which appear on the Ponies in  New Homes page) and this reminded me of the photo we took when he was a babe - finding a convenient scratching post.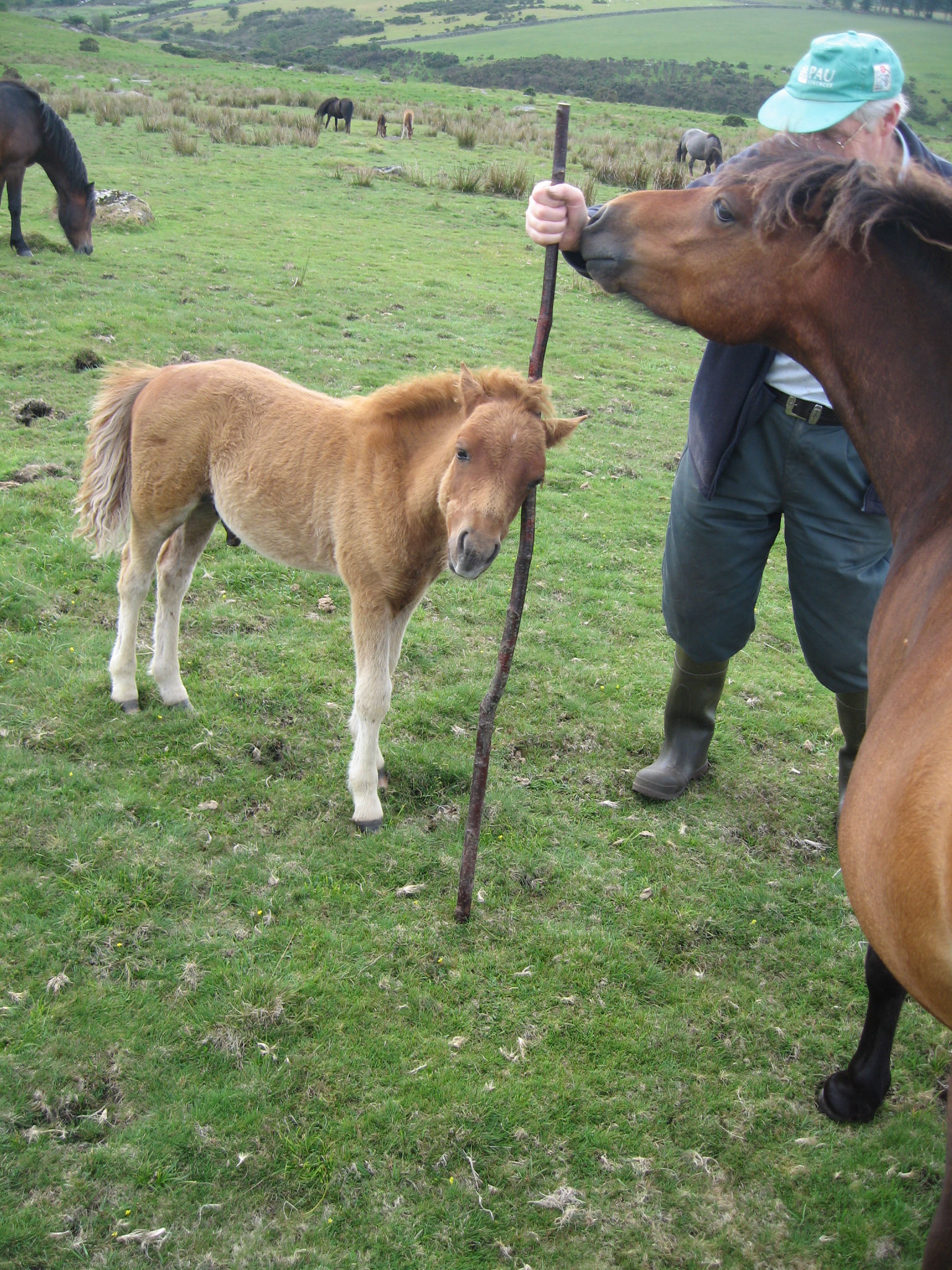 Below, L Scarlet Rosefinch was Supreme Champion at Totnes Show 2019. And she looks like she knows it.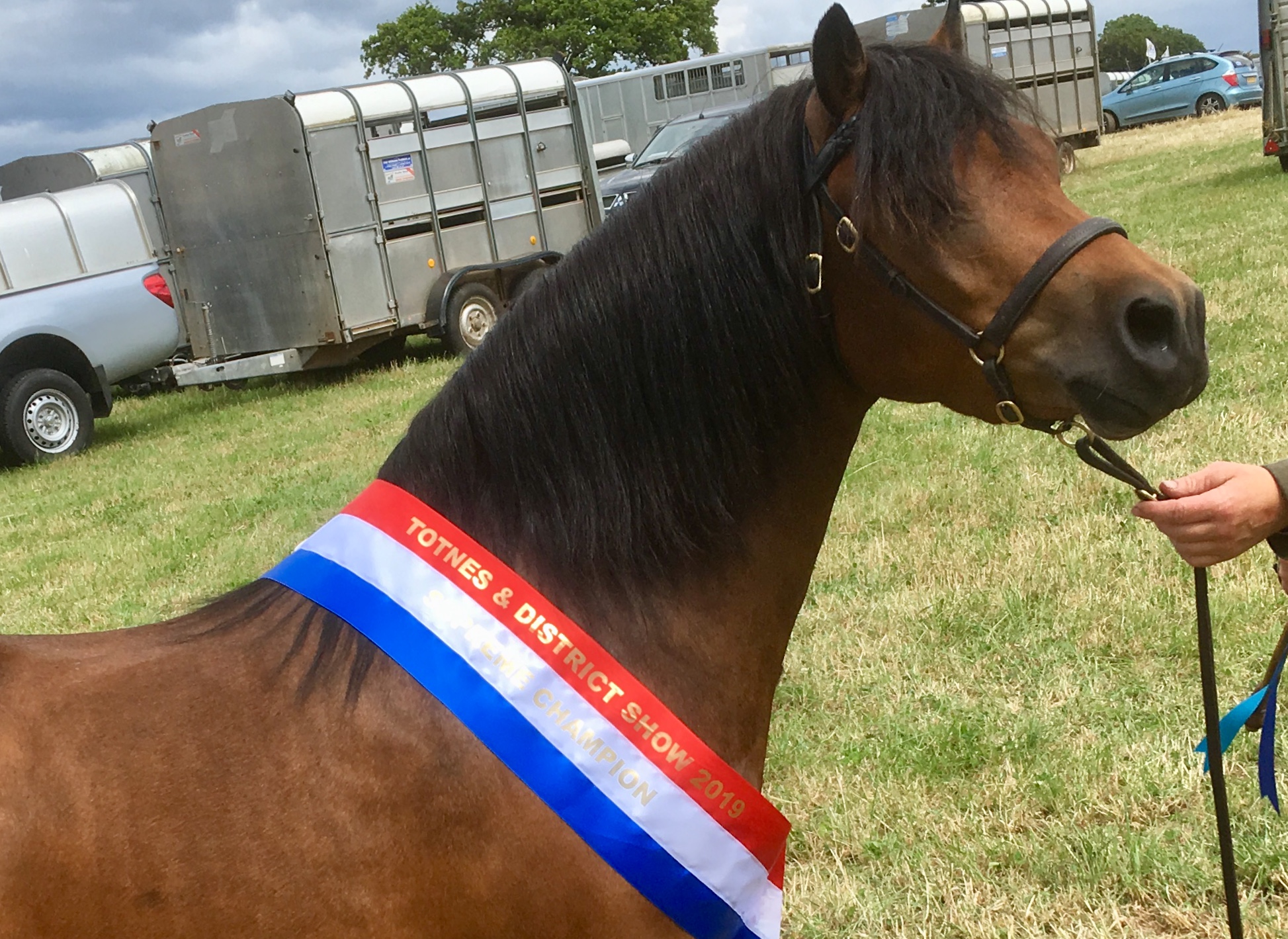 2021: After a quiet 2020 (we had foals, but not much else happened), we've got a collection of colt foals on the ground this year. Here are two of them. They will be looking for new homes, as will their little half-brothers...
Below is senior mare Nutty (L Nuthatch) with her little boy by Lobbmill Panache. NOW SOLD.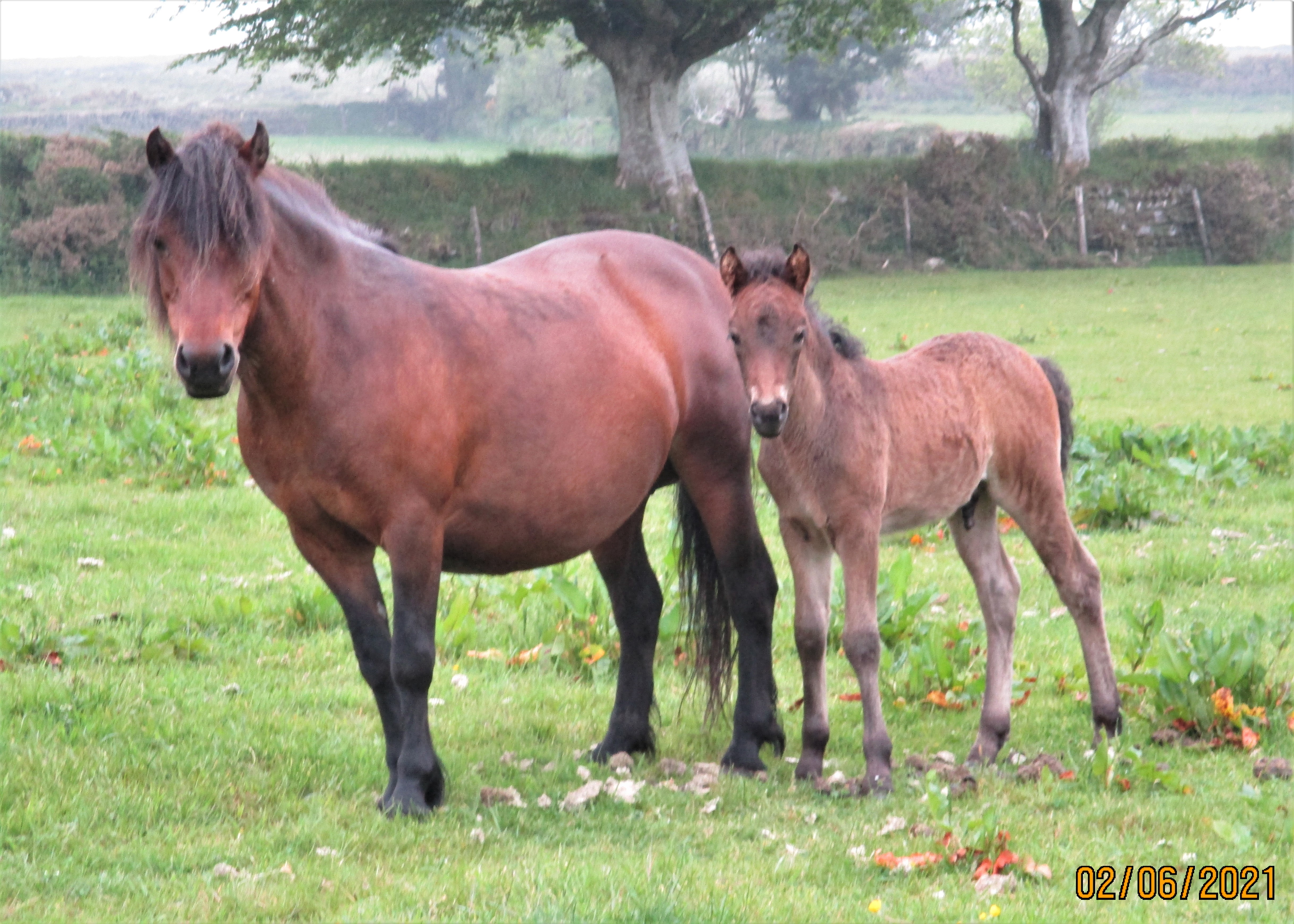 And below is L Goldfinch with her little chap by Shilstone Rocks Jetstream. NOW SOLD.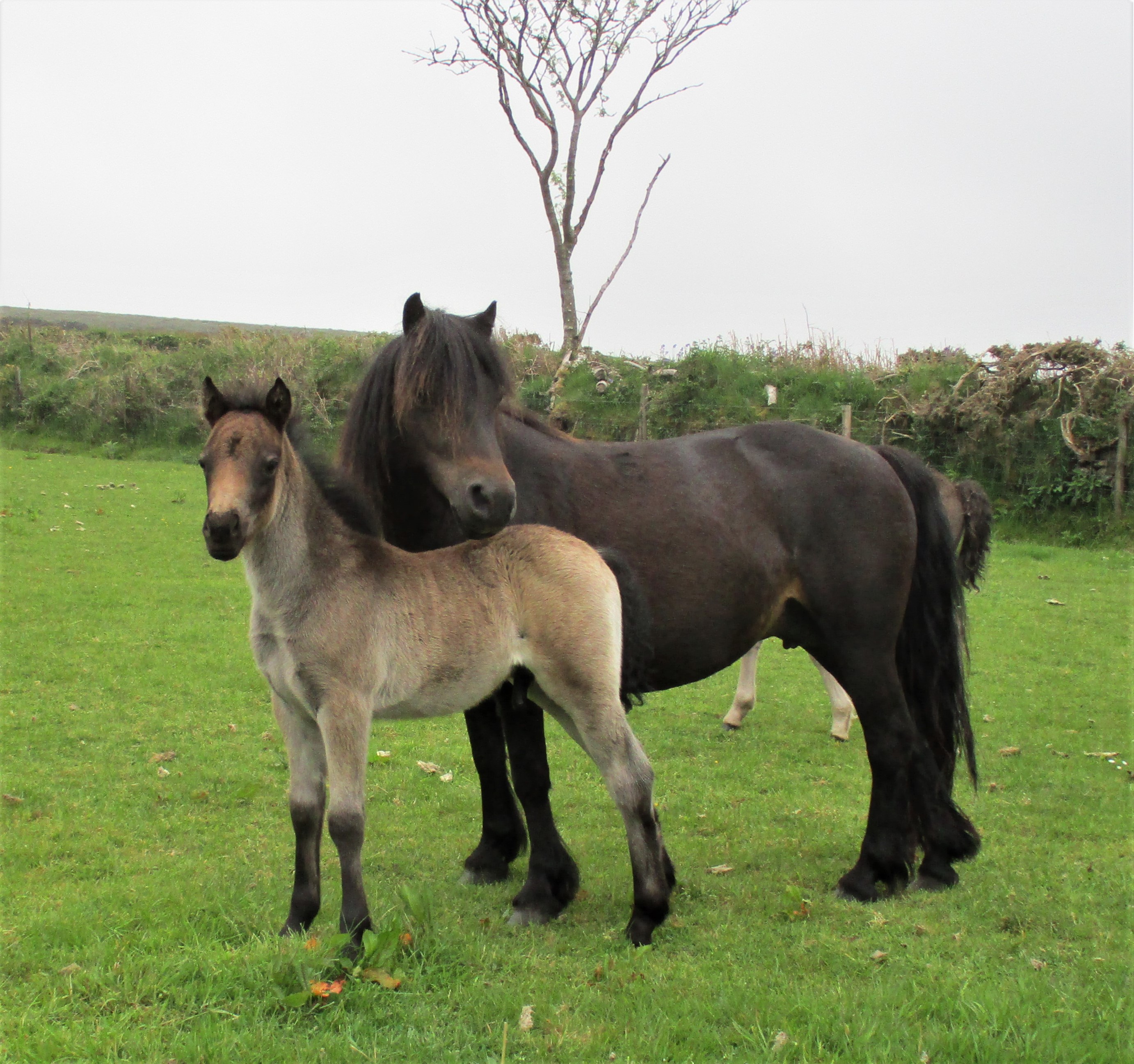 We have two remaining colts for sale, Langworthy Sparrow and Langworthy Dunnock. Both have been weaned and handled. Sparrow on the left, Dunnock on the right in the photo below.